KNOW WHEN IT IS TIME TO REPLACE YOUR TIRES
Check for nicks or cuts in sidewalls, as they are especially dangerous. Watch that you don't have cupping, or irregular wear along tire shoulder edges. Check for wear and damage. Keep in mind that 75% of the problems with tires occur in the last 25% of tread wear. And you can quickly check tread depth with a twoonie.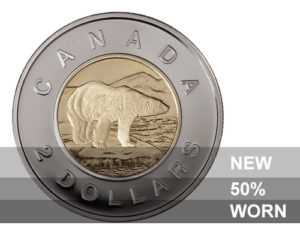 CHOOSING YOUR NEW TIRES
Replace tires with the right size and type for the vehicle. Most tires offer mileage specifications. Compare new tire life expectancy to the tire price, to choose the best value. Ask questions.
DISPOSING OF YOUR OLD TIRES
Proper disposal of used tires is handled by Auto Magic for a small recycling fee at time of purchase.